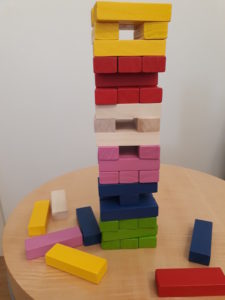 Many of us have either played Jenga or watched someone play. Little did Leslie Scott know in 1986 that she was inventing a game that in 2017 will be universally competing with only two other most popular games namely monopoly and scrabble.
Inspired by the meaning of the word Jenga, which means 'to build' in Swahili language, we at KFI Management Consulting (www.kumarfriends.com) developed instructions to teach lean principles and concepts on organizational change using Jenga. We combined the point value on the alphabet tile in scrabble and the colors of the blocks (Jenga also comes in colored blocks) to create a fun way of learning. On reflection we realized that we use all the steps of ADKAR (Awareness, Desire, Knowledge, Ability, and Reinforcement) that registers the learning in the minds of the participants.
Each block of Jenga removed from the tower while maintaining its stability is a testament of the opportunities departments have in eliminating wastes in their area without impacting operations negatively. We group participants in twos or fours. While there is no restriction on the total number of participants, batch size up to 16 makes it easier to facilitate. Each color in the Jenga block has assigned points and teams compete to maximize their score. Specific instructions are provided for teams to follow and then at other times teams are provided a complete freedom to build the structure, at which times they are competing to build the tallest tower.
The difference between the three types of change namely, incremental change, transitional change, and transformational change and their characteristics are understood by teams when they see how the choice they make in selecting their change strategy in their Jenga game makes a big impact on the results they get. For the intellectual and curious minds, my new book, "Courageous Leadership: The Missing Link to Creating a Lean Culture of Excellence" (https://lnkd.in/eQte2ra) answers many of their queries as the book is one of the firsts of its kind to wade through the confusion among leaders on selecting the type of change approach that will get the best results in their organization. It educates the senior executive leaders and organizational excellence practitioners on the different characteristics of change and answers why the approach to incremental and transitional change cannot deliver the results expected from a transformational change.
Our clients love the learning through Jenga. Prime reasons being- employees at all levels resonate well with it, is easy to comprehend and to follow instructions, and most importantly they have fun while learning the important concepts. It is a great team building exercise. It is a great way to teach leaders to make a decision in uncertain situations. It is a great exercise for planning where teams experience the outcomes and see the results as they implement their strategy. In this game, you either WIN or you LEARN, you don't lose.
Would like to hear your experiences, if you have tried something similar with Jenga. Share your thoughts!!!